The SMCS (Safety Management and Control System) is certainly the most challenging
MarkDCS
applications to date.
Its task is to monitor all on-board safety subsystems: in first place fire detectors and damping as well as flood detectors, fire and watertight doors, but also auxiliary systems involved in an emergency like ventilation, lighting and paging.
It dispatches operator commands and performs automatic actions in response to an emergency in absence of operator intervention.
According to configuration and ship size, from 2 to 20 PC workstations connected to a high-reliability redundant network control up to 10,000 sensors and actuators. Any station can interchangeably take control of all functions and typically two of them actually communicate with the field in a hot-backup scheme.
The SMCS is developed and maintained by
ASIC
, the R&D division of the MARTEC group, with which we have a decade-long co-operation story, and is being routinely installed on most major cruise ships, starting from the
Grand Princess
(picture), who debuted in 1998, at that time the largest cruise ship ever built. Since then, SMCS has been installed on over 100 large and small cruise ships, military and cargo vessels. Our partners' website also hosts
a list of major installations
.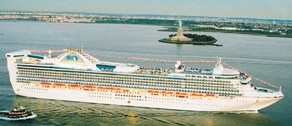 Photo courtesy of Princess Cruises